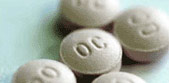 As media picked up the story and brought more attention to the exploitation and abuse of veterans at the U.S. Department of Veterans Affairs Medical Center in Tomah, Wisconsin, the pressure of scrutinizing the facility's chief of staff, psychiatrist Dr. David Houlihan and the hospital's questionable methods are underway.
The amount of Veterans seeking care at the hospital declined, yet Oxycodone pills given out escalated from 50,000 to 712,000. The number of opiate prescriptions written from 2004 to 2012 at the VA Hospital increased fivefold. The VA Hospital drugged patients with narcotics causing addiction, overdose and even death, instead of setting proper standards, offering quality patient care, and providing alternative methods for pain relief.
Investigation into Houlihan has found that there are serious concerns with the amount of opioid prescriptions written. Houlihan himself said doctors at the Tomah VA are using the opiate Suboxone for treatment of veterans.
Jason Simcakoski died at the VA Hospital of an overdose under Houlihan's watch. He went into the hospital for treatment of severe anxiety and addiction to painkillers. Jason died after the VA Hospital added Suboxone to his list of cocktails.